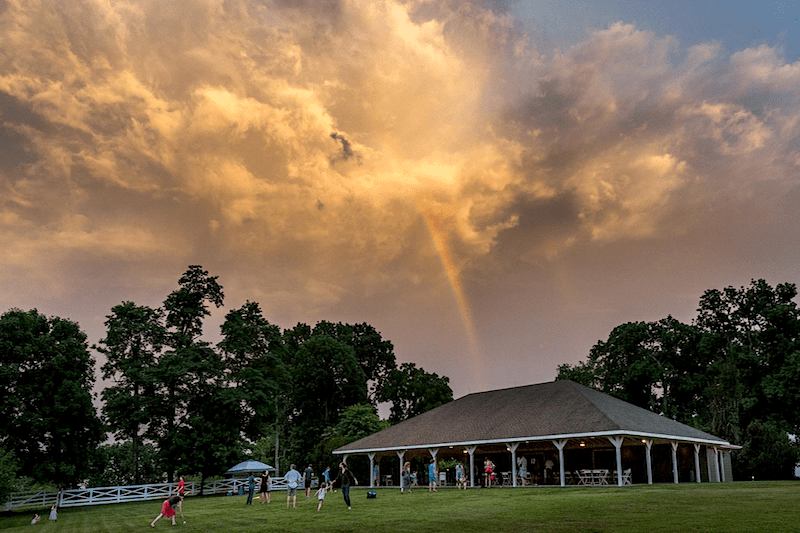 Gardens and Grounds – Highland
Gardens and Grounds – Highland
The surrounding scenery at James Monroe's Highland is both serene and historical. Because plantations were large money-making enterprises, Monroe utilized Highland to grow a surplus of crops and other products for sale. Initially, Monroe found that only a small portion of Highland was cultivated. In 1798, however, he estimated that the plantation could produce 20,000 pounds of tobacco. To increase production, he followed in the footsteps of Thomas Jefferson and experimented with a variety of agricultural techniques. Through the hard work of enslaved peoples, Monroe successfully planted cover crops, and plowed plaster of paris, or gypsum, into the soil. Eventually Monroe grew grain crops, which were less draining on the soil than tobacco.
Monroe's plantation had both a gristmill and a sawmill, permitting workers to grind the plantation's corn and wheat. The enslaved people also processed timber from Highland's 2,000 wooded acres. The blacksmith who shod horses and hammered ironware was likely an enslaved man who lived on the plantation. Other enslaved workers were kept busy spinning and weaving wool and flax, which produced a great deal of profit. Since foreign cloth was extremely costly, Monroe imported Spanish Merino sheep to Highland, where he cross-bred them with his domestic animals.
The gardens at James Monroe's Highland were both beautiful and functionary.  As a cultured lady, Elizabeth Monroe required fresh and dried flowers for her bouquets. Enslaved workers in the kitchen and home also required numerous herbs for cooking, scenting the linens, repelling moths, medicinal properties, and dyeing fabrics. Today's vegetable garden, just outside the kitchen yard, yields cabbage, beans, corn, squash, tomatoes, and numerous kinds of greens. Many of these were also grown on plantations in the Virginia Piedmont.
A magnificent white oak stands in the estate's mature Boxwood Gardens, which workers planted over a century ago. The majestic "witness tree" exists from Monroe's time and is today twenty feet in circumference. The gardens and grounds also include white ash trees, which line the entranceway and stretch towards a ridge along Carter's Mountain and Highland's boundary. It is no wonder this formal landscape provides a number of peaceful garden settings for museum and private social events. A breathtaking wedding venue, James Monroe's Highland is the perfect location for visitors to enjoy the beauty of Central Virginia.
Thanks for checking out Gardens and Grounds – Highland! Want to find out more about James Monroe's historic estate? Check out the Charlottesville Guide's section on Highland for more information.