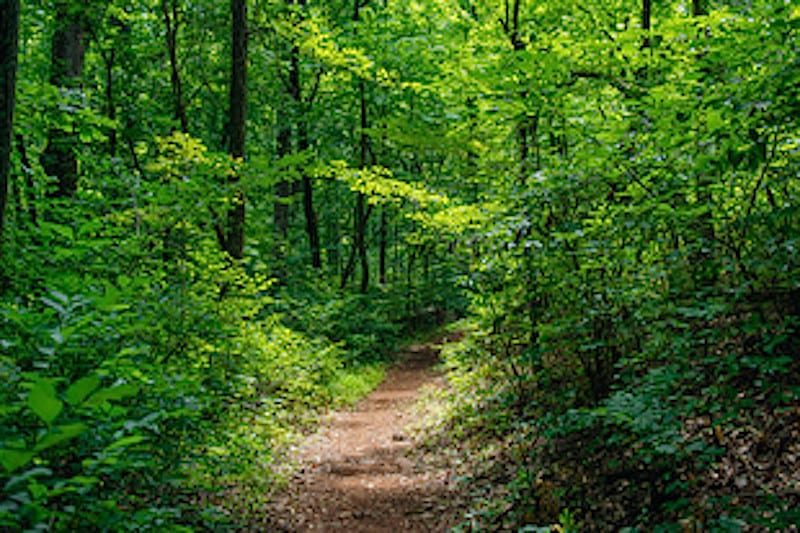 Hike the Trails – Montpelier
Hike the Trails – Montpelier
With over 8 miles of well-marked walking trails, Montpelier is a great stop for any outdoorsman. Located just two hours south of Washington, D.C. and a half hour north of Charlottesville, the trails are conveniently located near other popular tourist destinations. Winding through horse pastures, wildflower meadows, and forests, including the Old-Growth Landmark Forest, the trails offer spectacular views of the Blue Ridge Mountains and intimate encounters with native plants and wildlife. Open to the public seven days a week, the trails are the perfect way to spend a day in Central Virginia.
The 3.55-mile Montpelier Loop Trail is designed for walkers and hikers looking to experience the full range of landscapes Montpelier has to offer. Starting at the David M. Rubenstein Visitor Center, the trail runs past the Annie duPont Formal Garden, through the James Madison Landmark Forest and the Demonstration Forest, and along horse pastures and wildflower meadows. Some of the trail's most notable features include a 150-year-old white oak and tulip trees, unobstructed views of the Blue Ridge Mountains, and lovely vistas of the Montpelier house.  Additionally, hikers have the opportunity to visit the Montpelier slave cemetery and the Madison family cemetery.
The Landmark Forest and Demonstration Forest trails consist of a series of interlocking loops covering a total of 2.5 miles. These trails allow visitors to experience the variety and majesty of Montpelier's old-growth and transitional forests. With interpretive signs, the trails provide an educational component for hikers and those seeking more information on the nature of Virginia's Piedmont region. After following the Montpelier Loop Trail, hikers can access the Landmark Forest to experience stately oak, beech, and tulip tree canopies and seasonal native wildflowers.
The 3.9-mile Montpelier-Grelen Trail links Montpelier's trail system to Grelen Nursery's trail system over a route that traverses Chicken Mountain. A partnership between Montpelier, Grelen Nursery, and Piedmont Environmental Council, the Office of the Governor named the Montpelier-Grelen Trail a "Virginia Treasure" in 2015. The trail is noteworthy for its outstanding contribution to conservation, cultural heritage, and public outdoor recreation. The Montpelier-Grelen Trail features the Blue Ridge and Southwest Mountains. The trail also leads to The Market at Grelen, a notable feature of Orange County.
Looking for a shorter trail? The 1-mile Montpelier Civil War Trail offers an equally exciting adventure. Visitors experience the archaeological remains of a Confederate winter camp and the farm of George Gilmore, who was born into slavery at Montpelier around 1810 and. After Emancipation, Gilmore became a farmer and landowner, building his cabin on the site of an abandoned Confederate hut. Montpelier also offers guided walking tours of the Civil War Trail.
Thanks for checking out Hike the Trails – Montpelier! Want to learn more? Check out more information about James Madison's former home in the Charlottesville Guide!