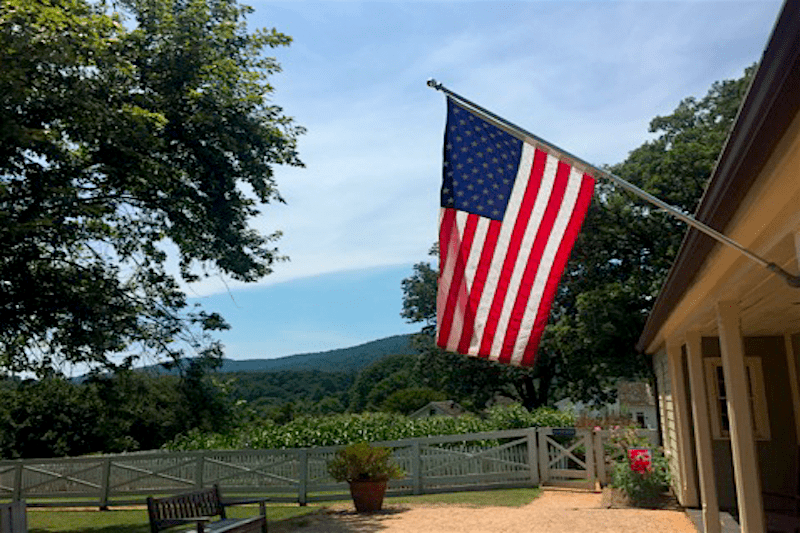 Take the Tour – Highland
Take the Tour – Highland
With a newly revamped tour, James Monroe's Highland is yet another exciting destination near Charlottesville, Virginia. While archeologists currently excavate the site where Monroe's residency burned down in the mid-1800s, guests can take a guided tour through the guest home. Although historians know very little about Monroe's original residency, the guest home boasts an astounding number of original Monroe family artifacts. The belongings include classically inspired French furnishings and finely crafted American furniture. Thus, the guest home at James Monroe's Highland allows visitors to imagine what Monroe's own home once looked like.
Each room showcases many of the former president's values. Monroe's study holds many reminders of his momentous political career, including a Louis XVI desk almost identical to the "Monroe Doctrine Desk" and reproduction portraits of numerous early nineteenth century political leaders.
Along with the study, Monroe also added the children's room in 1816. The beautifully furnished room contains a king's crown canopy bed and bedsteps like those used by Maria Hester, the Monroes' younger daughter. A sampler stitched by Maria Hester, when she was eleven years old, is also visible in the room. Monroe displayed his interest in French decor by adding an Aubusson carpet in tapestry weave, a popular trend in the 1700s.
The Monroes chose an extravagant bed for their bedroom. It included high posts with magnificently carved feather-and-palm motifs. Additionally, the room displays one of the most astounding original Monroe pieces, a bureau with a green marble top. Washington, DC- cabinetmaker, Robert Davies, made this lavish piece of furniture for Monroe during his first term as president.
The dining room and drawing room served quintessential roles. The dining table is expandable, serving as an impressive and practical feature for guests. Like the dining room, which draws on American and European influence, the drawing room features many imported and elegant pieces. Because the Monroes spent time abroad, they brought back many items from Napoleonic France. While beautiful tapestries and paintings decorate the room, the larger-than-life bust of Napoleon Bonaparte commands guests' attention. Created by Chaudet, Emperor Napoleon presented this work of art to Monroe himself.
The Victorian style wing consists of two rooms that feature permanent and rotating exhibitions. Added in the 1970s, the wings showcase a collection of objects from the War of 1812. Come see the drop-leaf table, a gift to Monroe from the people of Santo Domingo in appreciation of the famous Monroe Doctrine. The president's policy protected the Western Hemisphere from European political and military intervention. The display also includes a bust of Monroe sculpted by Attilio Piccirilli in 1931.
Thanks for checking out Take the Tour – Highland! Interested in learning more about James Monroe's former estate? Check out more information in Charlottesville Guide's section on Highland.