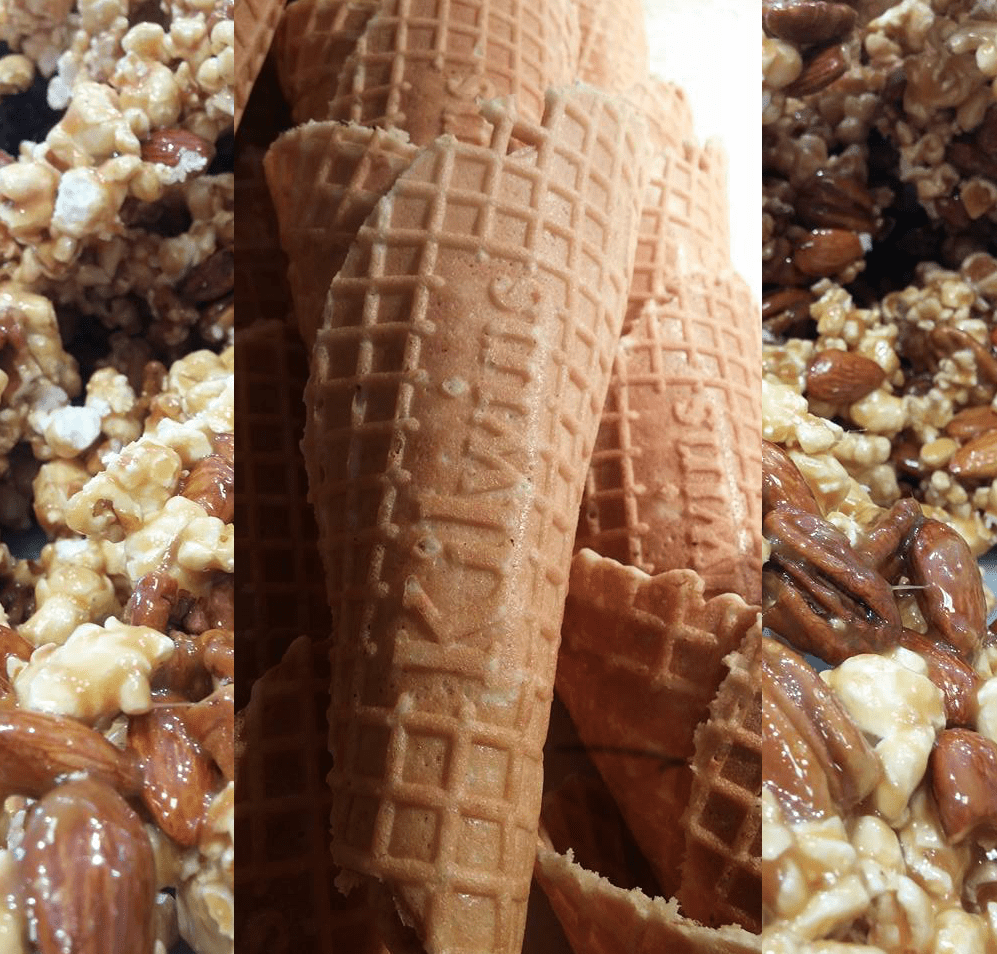 Kilwins Charlottesville
A profoundly unique energy governs the Charlottesville Downtown Mall in the summer, especially in the evenings, when locals break free from their 9 to 5 routines. Tonight the air is filled with the enticing smell of hot, fresh waffle cones emanating from the Kilwin's storefront. Despite Kilwins status as a small franchise with locations across the United States, each individual store is locally owned and operated, and a majority of their products are made in-store by their expert kitchen staff, making them an ideal fit for the foodie vibe of Downtown Charlottesville.
Drawing closer to the delicious scents, the outside of the store is a spectacle of its own. The kitchen is located in the front window, where pedestrians frequently stop and gather around to watch the cook prepare peanut butter cups or salivate over delectable fudge or caramel being poured out of a large copper kettle onto the marble island. A friendly employee can be found outside offering up samples, inviting people in with a smile and a little bit of sweetness. Beyond the large glass windows through the double doors, it is clear Kilwins has been able to flawlessly revitalize the ever alluded to experience of a kid in a candy store. The atmosphere is vibrant, bright, and modern with a black and white vintage twist, setting itself apart from other chocolate shops with darker and more mellowly romantic settings. Cases are brightly lit displaying a variety of caramel apples, 12 different types of fudge, 30 flavors of ice cream, chocolate dipped items such as twinkies, Oreos, marshmallows, rice crispies, pretzel rods and twists, and buckeyes, as well as a wide array of truffles and bonbons.
The first thing that is guaranteed to happen when you enter the store is that you will be offered a fudge sample of your choice from the glistening case. Best of all, if you happen to sample and love more than one type of fudge, they have a "buy two slices and get the third slice free" deal. And if fudge doesn't suit your palate, proceed towards the back of the store to the ice cream. Their most popular flavor to sample and order is called the C'ville Mud, a vanilla based ice cream with swirls of caramel and little explosions of chocolate. Other popular flavors include the cappuccino chocolate chip and the toasted coconut, in which each piece of coconut is covered in chocolate.
My new favorite treat from there, which can be found in the chocolate display, are the Pecan Snappers. They are, as the store so accurately describes, "Mammoth pecan halves in a pool of home-made copper kettle caramel covered with Kilwins milk chocolate." While I am a personal fan of chocolate, caramel, and nuts fused together into sweet goodness, every item Kilwins sells showcases their exceptional ability to make classic treats with a personal touch. After all, even the truffles and bonbons that come from the Kilwins home kitchen in Michigan have been hand crafted. Next time you visit, look closely and you will see that there are letters drawn onto the tops of the truffles and bonbons indicating their flavors- V for vanilla, O for orange creme, or a C for caramel.
Next time you're downtown, be sure to drop by Kilwins, even if it is just to watch the cooks prepare their signature caramel chews or pick up a free fudge sample. But be warned: their tasty treats- from elite dark chocolate almond bark to the sea salt caramel covered marshmallows- are irresistible to children and grownups alike.