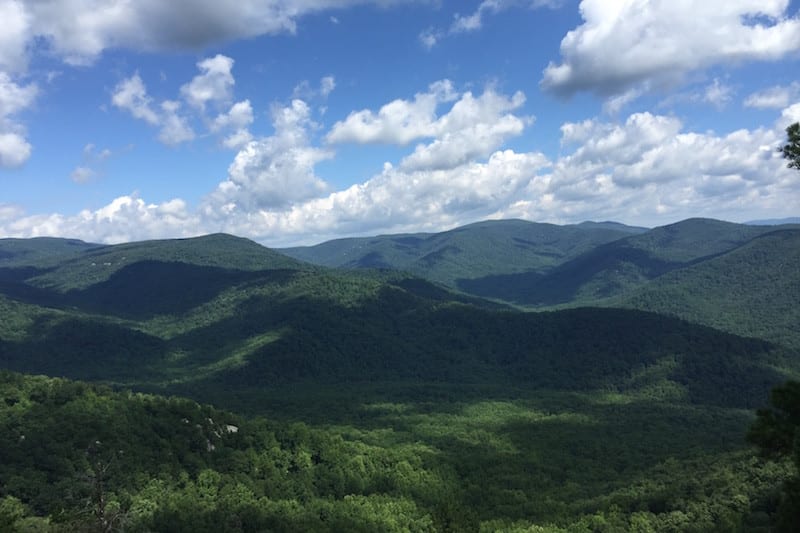 Best Destinations for Hiking Near Charlottesville
The Best Places for Hiking Near Charlottesville
Wanna take a hike? While Charlottesville is often thought of as a growing quasi-metropolitan area, this perspective disregards the rugged wilderness surrounding the city and the dozens of great spots for hiking near Charlottesville. So, take advantage of the incredible beauty of Central Virginia by exploring the scenic outdoors on your day off. Here's a list of the best places to start.
Parking Lot Address: 10438-10636 Crabtree Falls Hwy, Tyro, VA 22976 (Same parking lot for Crabtree Falls) OR 314 Fish Hatchery Ln, Montebello, VA 24464
Driving time from Charlottesville – 2.5 hour round-trip
Estimated Hiking Time – 3 hours
Total Time of Adventure – 5.5 hours
The trek to Spy Rock is thrilling and challenging, with varying levels of intensity along the way. You'll be traversing cascading Crabtree Falls, wildflower-dotted Crabtree Meadows, and part of the Appalachian Trail. The easy beginning mile that sticks you on a fire road is very misleading because once you get past it, it turns into a strenuous path to the peak. Near the top is a short rock scramble to reach the lovely reward: a 360-degree panoramic view of the Blue Ridge Mountains. This breathtaking view makes the climb up seem a little less taxing. It's a relatively easy path back down afterwards.
Afterwards, resuscitate yourself on the way back to Charlottesville with a stop-off at Blue Mountain Brewery (9519 Critzers Shop Rd. in Afton) where Salzburg meets Charlottesville in a delicious ambiance furnished by Taylor Smack, one of Virginia's earliest and best brewmasters.
Parking Lot Address: Humpback Gap Overlook, Afton, VA 22920
Driving time from Charlottesville – 1 hour round-trip
Estimated Hiking Time – 1.5 hours
Total Time of Adventure – 2.5 hours
By far the most popular hike among UVA students and Charlottesville residents alike, Humpback combines a short trip time with an incredible view of Central Virginia. Located only 30 minutes away from Charlottesville, Humpback is an accessible place to catch a beautiful sunrise before work or class, or to take in the sunset in early fall. Be warned: for only being a mile-long incline, Humpback packs in 800 feet of elevation, and it's a surprising test not for the faint of heart.
After your sunrise jaunt, recharge your batteries with a dose of caffeine from Grit Coffee in Crozet's Old Trail neighborhood and continue your day with Humpback's great view in mind. If it's a sunset hike you've completed, consider a jaunt into Crozet to visit the Starr Hill Taproom, production home of some of our best beers with ties to Dave Matthews.
Parking Lot Address: Browns Gap Rd, Crozet, VA 22932
Driving time from Charlottesville – 2 hour round-trip
Estimated Hiking Time – 4 hours
Total Time of Adventure – 6 hours
This is a hike meant for the warmer months. The Jones Run adventure is a Skyline Drive experience to behold when the water is a nice temperature. Skyline Drive is chock-full of memorable hikes, but the falls at Jones Run move this trail into a class of its own. With colorful, plentiful foliage and quite a few places to splash around in refreshing waterfalls, this is a unique day trip that isn't too far from Charlottesville.
Nothing works better after a swim and a hike on a nice day than a relaxing session at Pro Re Nata Brewery (6135 Rockfish Gap Turnpike) in Crozet. Indoors or out, the liquid sunshine, western atmosphere, beer-centric food truck fare, and frequent live music will enable you to reflect blissfully on your excellent outing.
Hike Old Rag, Madison County, Virginia
Parking Lot Address: 2509 Nethers Rd, Sperryville, VA 22740
Driving time from Charlottesville – 2.5 hour round-trip
Estimated Hiking Time – 4.5 hours
Total Time of Adventure – 7 hours
Old Rag is indisputably the crown jewel of day hikes in Virginia. This 3,284-foot-tall mountain has the highest foot traffic of any hike in Shenandoah National Park, and for good reason. This is likely the most difficult – and fun – hike in all of Virginia, with tons of rock scrambles, and a steep elevation gain – not to mention the sheer distance of the hike, which is more than 9 miles long roundtrip. Don't be fooled, though; despite the distance and difficulty, Old Rag is a spectacular accomplishment to add to your hiking résumé.
Once you get back to the parking lot (after an agonizingly long hike down the mountain), we recommend you cool your heels at one of the area's hottest brewpubs – Bald Top Brewing Company, just outside Madison on the way back to 29 South. The beer is fresh and thirst-quenching, served in a rustic setting, with food trucks nearby and live music on weekends.
Wanna go deeper and explore other cool hikes in Shenandoah National Park? Check out this Guide to Top Hikes in the Park.
Parking Lot Address: 1780 Earlysville Rd, Charlottesville, VA 22901
Estimated In-Town Driving Time – 30-minute round-trip
Estimated Hiking Time – 2.5 hours
Total Time of Adventure – 1.5 – 3 hours
Ivy Creek is a quiet, local gem. Just a few minutes west off of Route 29, it's a delightful spot with active wildlife and forested beauty. Birders are especially fond of Ivy Creek. You'll enjoy a family-friendly 5-mile hike within this nature preserve. But, it's also a wonderful place to simply sit on a bench while taking in the quintessential nature of the Virginia Piedmont. After your quick escape from the real world, consider re-acclimating at Burger Bach, a New Zealand-inspired gastropub in the Shops at Stonefield that will knock your socks off.
Don't forget! Dress for the weather, and bring lots of water and a snack or two for whatever hike you go on. These adventures can be physically taxing, so it's best to be prepared.