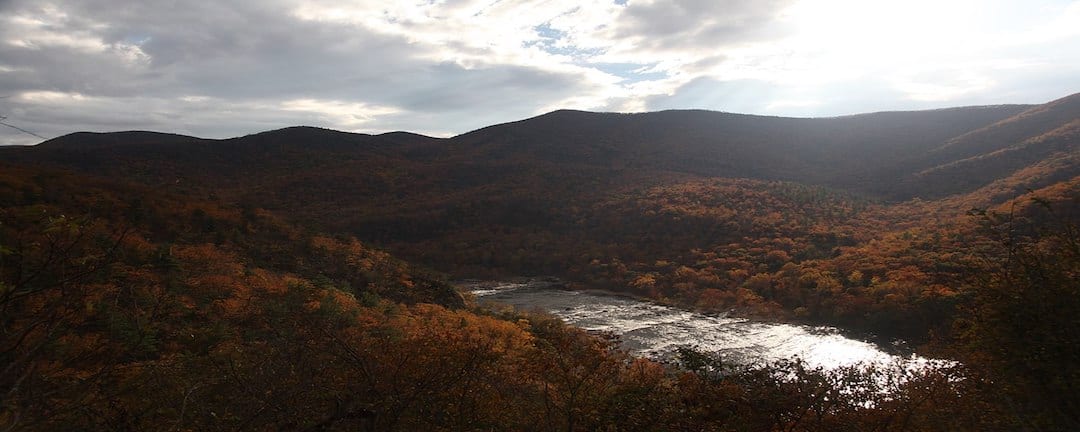 Overnight Camping and Hiking Trips Near Charlottesville
Ready for the outdoor adventure of overnight camping and hiking? Central Virginia is prime backpacking territory. Here are 5 prime recommendations nearby. Throw some gear in your backpack, and hit the road. Below is the Charlottesville Guide's list for Overnight Camping and Hiking Trips Near Charlottesville – both shorter trips and more arduous ones.
One-Night Trips
White Oak is one of the most visited hikes in the entire Shenandoah National Park, and for good reason. There's scenic hiking, beautiful waterfalls, and even some climbing is available at this haven. Add to that the fairly strenuous Cedar Run addition, and you've got yourself an 8.2 mile roundtrip hike with backcountry camping. Please note that backcountry camping permits are required in SNP, but it's well worth it for an awesome summer trip. Here is the link to apply online for a backcountry permit.
Syria, VA – ~1 hour from Charlottesville | Parking Lot Address: Chad Berry Lane, Syria, VA 22743 | Total Hike Distance: 8 miles
Most people see the famous Old Rag Mountain hike as just a day hike. However, the Potomac Appalachian Trail Club maintains a modern cabin with space for 8 people, only 0.3 miles from the base of Old Rag. The hike is a strenuous but rewarding 9 mile trek filled with rock scrambles, beautiful views, and an unbelievable panorama. You can cap off your hike by heading down the mountain and over to the PATC cabin, available for rent at quite reasonable rates here. If Old Rag isn't enough for your trip, the cabin is in close proximity to a bunch of other smaller hikes, too.
Madison, VA – ~1 hour from Charlottesville | Parking Lot Address: 2509 Nethers Rd, Sperryville, VA 22740 | Total Hike Distance: 9 miles
Two- or More Nights Trips
The Big Meadows/Hawksbill/Rose River trio is a beautiful 3-day, 2-night trip. It combines the highest peak in Shenandoah with the coolest campground in the park and the 9-mile Rose River. You can take a 4- mile hike-in to Big Meadows Campground from Milepost 53 at Milam Gap. Alternatively, you can drive directly into the campground parking lot and set up camp for the night. Following your night at the campground, you've got 17 miles ahead of you for the next two days. You'll be spending one night in the Rose River Loop backcountry (again, permit required for this). Day two stops by Hawksbill – the tallest point in the park – and day 3 finishes with hiking the Rose River. This trip is a tall order, but quite rewarding if you're up for the challenge!
Stanley, VA – ~1 hour from Charlottesville | Camp Address: Milepost 51, Skyline Dr, Stanley, VA 22851 | Total Hike Distance: 17-21 miles
For this particular trek, you'll need two cars: one to leave at the beginning of the hike, and one to leave at the end of the hike. It's recommended you walk south to north, as there is more downhill this way. One car will be left at the James River AT Footbridge (north), and the other will be left at the starting point of Blue Ridge Parkway's Sunset Field. This is another 3-day, 2-night adventure, but there's a lot more packed into this trip. You'll see sights like Apple Orchard Mountain, the FAA Radar Dome, the Thunder Ridge Wilderness, the James River Appalachian Trail Footbridge, and so much more. For camping, you'll be splitting your nights between an open campsite, and the Johns Hollow AT Shelter. Be aware, there's tons of elevation change and some more intense sections, so the hike is not for the faint of heart.
Snowden, VA – ~ 1.5 hours from Charlottesville | Footbridge Address: State Rte 812, Big Island, VA 24526 |
Sunset Field Address: Blue Ridge Pkwy, Buchanan, VA 24066 | Total Hike Distance: 29 miles
The Big Boy: 8-12 Nights
 For the truly experienced hikers, maybe you haven't considered tackling the entire SNP part of the Appalachian Trail. While the 120 mile guideline is only a fraction of what the full AT is, this is still quite the undertaking. Plan for at least 8 days at a clip of 15 miles per day. Your lodging will strictly be backcountry camping, and you'll need to be sure to pack enough food. Those who have hiked it say the trip is seriously transformative. Without a doubt, you'll appreciate your bed and hot food all the more when you've finished it. NOTE: Because of the many thru-hikers, you may want to avoid this trip from mid-May to mid-July. Due to a scarcity of camping spots, the best time to go is in the late summer. Additionally, you'll need a ride back to your car from the end point of the hike, so plan accordingly. Lastly, a permit is required for backcountry camping, as usual.
Begins in Rockfish Gap, Virginia – ~ 30 minutes from Charlottesville | Parking Lot Address: Rockfish Gap Turnpike, Afton, VA 22920
Total Hike Distance: 120 miles
Thanks for checking out Overnight Camping and Hiking Trips Near Charlottesville! We here at the Charlottesville Guide hope our post gives your inspiration for your next venture into nature. Want day hikes instead? Here's the Charlottesville Guide to Day Hikes & Adventures.