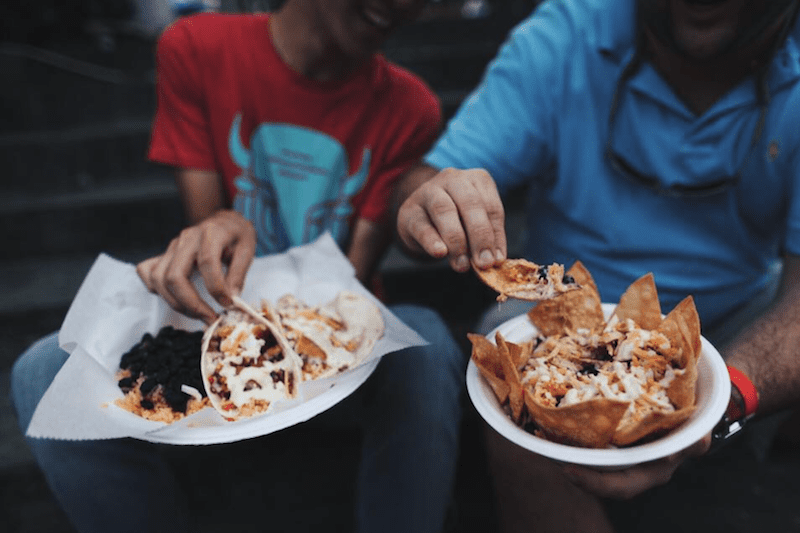 Charlottesville's Spring Traditions and Events
With spring comes a plethora of unique events in Charlottesville including, but not limited to, food and beverage festivals, concerts, and other art events. Charlottesville is rich with tradition, but also welcomes the bustling presence of other trendy options in the area. Although there are hundreds to choose from, this blog includes a compilation of the ones you absolutely need to learn more about. So, here is a list of Charlottesville's spring traditions and events you cannot miss!
Springtime Cuisine & Beverages
Spring brings an array of festivals full of delicious meals and beverages. We compiled this mouthwatering list of some of the most popular local events. Enjoy!
Saturdays 9 am to 1 pm through March 24th: Your winter farmers market fix is found at IX Art Park until the Downtown Mall market opens back up in April. Tons of vendors and local artisans set up shop at the park, with fresh produce and other goods right next to the captivating outdoor art space. 522 2nd St SE, Charlottesville VA 22902
Saturdays, 7 am to 1 pm from April to December: The premier farmers market in Charlottesville can be found in the large Water Street parking lot near South Street, and it never disappoints. This array features hundreds of vendors, with items ranging from food – donuts, pastries, produce and more – to locally sourced goods – clothing, home decor, and art. Water Street and South Street, Charlottesville, VA 22903
Monday, April 9th, 5:30 to 7:30 pm: Designed to bring together civic groups, non-profits, businesses, and residents of C-ville, Tom Tom Festival will host a potluck at IX Art Park to "celebrate the start of spring and the week-long festivities." 522 2nd Street SE, Charlottesville, VA 22902
Saturday, May 12th, 2 to 6 pm: Yet another event at the IX Art Park is the renowned Know Good Beer and Bourbon Festival, an event that brings together dozens of different craft beers and 20 different bourbons for your sampling pleasure. The best part? A ticket (which includes unlimited tastings) is only $25 until March 1, and only $50 afterwards! Proceeds benefit Red Shoe Cville and the Ronald McDonald House of Charlottesville. 522 2nd Street SE, Charlottesville, VA 22902
Monday May 7th- Saturday May 12th, 12 pm. Celebrating the Monticello Wine Trail, which consists of 33 member wineries located within the Monticello American Viticultural Area (AVA), the Taste of Monticello Wine Trail Festival is an established spring tradition in Charlottesville. The festival showcases a partnership between the Monticello Wine Trail, Sprint Pavilion and the Jefferson Theater. Over the course of the festival days, guests taste various wines from the surrounding area that represent the rich Charlottesville wine culture. The festival includes a winemaker brunch, vineyard tours, an award show, and the grand tasting. Consequently, the Taste of Monticello Wine Trail Festival is the optimal event for every wine lover. Sprint Pavilion, 700 E Main St, Charlottesville, VA 22902
Saturday May 5 – Sunday 6, 11 AM-6 PM: The wine festival at Montpelier proves that Monticello is not the only historic site with tastings and tours. As a premium springtime event in the Charlottesville area, the festival features Virginia wineries, arts and crafts, speciality food vendors, and I've music. Because advance tickets are already sold out, you know this festival is a great way to ring in the spring season. But do not fret, tickets at the gate are still available! With separate tickets for adult tastings, dd tickets, youths, and free admission for children 12 and under, this event is the perfect way to celebrate Virginia wine culture before taking a tour of Montpelier. 11350 Constitution Highway, Montpelier Station, VA 22957
Must-See Music Events
Headliners
Matt and Kim at the Jefferson Theatre– Saturday, March 24th at 8:30 pm, $29.99 (sold out)
Styx and REO Speedwagon at John Paul Jones Arena – Wednesday April 4th at 7pm, $37-$77
P!nk at John Paul Jones Arena– Thursday April 19th at 7:30pm, tickets starting at $114
Jimmy Buffet and the Coral Reefer at John Paul Jones Arena – Saturday March 31st at 8pm, tickets starting at $51
Visit the John Paul Jones Arena schedule for more information about upcoming concerts and music events.
Up and Coming Artists
Anderson East at the Jefferson Theater – Tuesday, April 24th at 7:30 pm, $17
The National at the Sprint Pavilion – Monday, April 30th at 6 pm, $45-$60
Shakey Graves at the Jefferson Theater – Thursday, May 10th at 7:30 pm, $25
For more information on where you can hear both your favorite artists and new bands play in Charlottesville, visit our blog on the best restaurants and venues to hear live music!
Spring Art Festivals
Along with music, Charlottesville has a lot to offer in the arts. Enjoy this collection of local visual arts experiences this spring!
Monday April 9th – Sunday April 15th: A favorite local tradition, Tom Tom Founders Festival is a conference and cultural event celebrating innovation in industry and civic life. Come experience Charlottesville leaders and artists come together to create solutions across dozens of venues downtown. The festival incorporates a number of outdoor spaces, theaters, callers, and concert halls. One of the most popular events includes Artisanal Tom Tom on April 14th and 15th in Emancipation Park, which features an open-air market for local and regional art.
Saturday May 12, 2018: Come out to the Fifteenth Annual Festival of Cultures, a celebration of cultural and linguistic diversity in our local community. This is a day of free family events including music, dance, songs, and storytelling. Visitors can enjoy the cultural craft activities, explore exhibits, and enjoy delicious food and trinkets from artisan vendors. Washington Park, 935-A Second St., SE, Charlottesville, Virginia 22902
Saturday May 12th from 10 am – 5:30 pm and Sunday May 13th from 10 am – 5pm: Another can't miss festival among Charlottesville's spring traditions and events is the Crozet Arts and Crafts Festival. The event includes exhibitions, performances, food and beverages, and even a Mother's Day celebration. With free admission to children 12 and under AND free on-site parking, you absolutely cannot miss this festival! 1075 Park Ln, Crozet, VA 22932
Wednesday April 25th 7:00 PM – 9:30 PM: With a collection of films about our planet and wildlife, the Wild and Scenic Film Festival brings the Charlottesville community together for an eye-opening event. Violet Crown Cinema, 200 W. Main, Charlottesville, VA 22902
Festivals Celebrating Nature
As spring approaches, it brings some of its most beautiful natural decor. Take in the sites, from cherry blossoms to floral arrangements, as you enjoy these Charlottesville festivals.
Thursday March 29th – Saturday May 5th: The Charlottesville Dogwood Festival provides an array of things to do this spring, including a carnival. parade, and tree sale. Be sure to stop in on Saturday March 31st for the Dogwood Eggstravaganza! McIntire Park, US-250 BYP, Charlottesville, VA 22902
Saturday April 21st – Saturday April 28th: As the nation's oldest statewide house and garden tour, Historic Garden Week features beautiful gardens in the Charlottesville and Albemarle County area. Many of the venues include sites on grounds at the University of Virginia, such as the Pavilion Gardens and their surrounding serpentine walls and Carr's Hill, home to the University's president. (Carr's Hill: Located on the hill above the corner of Rugby Road and University Avenue).
Other Events Happening in Charlottesville this Spring
Wednesday March 21st – Sunday March 25th: Come enjoy a number of featured programs in the Charlottesville and Albemarle area for both children and adults! A popular event every season, be sure to experience this springtime fun, including luncheons at the Omni Hotel and an evening with the National Book Awards at the Paramount Theatre.
Foxfield Spring Races
Saturday April 28th, gates open at 9am: Foxfield is among one of the most popular of Charlottesville's spring traditions and events. Students, locals, and alumni all come together to enjoy this annual horse race that incorporates both school spirit and tailgating fun. 2215 Foxfield Track, Charlottesville, VA 22901
UVA 2018 Graduation
Saturday May 19th – Sunday May 20th: Each year, the final exercises are an opportunity for U.Va. alumni, parents, students, and Charlottesville community member to come together to celebrate another year of academic success. Come join the class of 2018 and outgoing President, Theresa Sullivan, for final exercise on both May 19th and 20th. On the previous day of Friday May 18th, former NFL champion and alumni, Chris Long, will speak at valedictory exercises.